Do You Know the Lingo?
Get the free guide on 50 common labels & label applicator terms.
The vast majority of businesses purchasing label applicators are experts in a field OTHER than labeling systems. In fact, our customers span the entire spectrum of industries: e-commerce, beer and wine manufacturing, household products, cosmetics, pharmaceuticals, food distribution... the list is endless.

More often than not, when a new customer reaches out to CTM to discuss labeling options, they understand the problem that needs to be solved but don't necessarily know which path leads to the best solution. To make things even more complex, navigating industry lingo can be difficult, but that terminology is critical to understanding the options available for labeling systems and how they may (or may not) serve individual needs.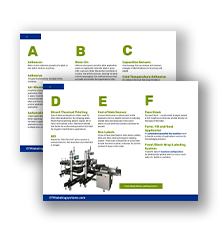 Fill out the form NOW to get the FREE GUIDE on 50 common label & label applicator terms.