Not Sure How To Choose?
Get the free guide on 10 things to consider before buying an automated printer applicator labeling system
You have a choice to make when inquiring with various manufacturers of automated labeling systems. Each manufacturer has a different approach to its sales process and pricing, design and manufacturing, its ability to meet specific needs, and its technical support.

Your job is to make the best choice for the well-being of your business. But, as a professional, your time must also be spent wisely. Prioritize the most important aspects of this decision-making process and act accordingly!

We have compiled the top ten things to consider prior to choosing an automatic labeling system. This list will help you narrow down your choice of manufacturers and take advantage of everything the label applicator has to offer. After considering these ten points, you'll be confident in making an excellent investment in your business.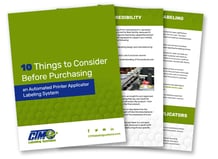 Fill out the form NOW to get the FREE GUIDE on 10 Things to Consider Before Purchasing an Automated Printer Applicator Labeling System.